About Travis Country's Top Home Selling Team
When not working in the wonderful world of real estate, Ricky, Kodikay, and Chandler Bing enjoy spending time down at Blue Valley Park. They seem to be more of the stay at home type as opposed to the going out type. Having friends over for a movie night or to play board games is always a ton of fun! When we do get out,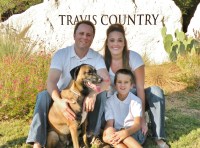 we really enjoy seeing movies, going out to eat and seeing the Lakers when they are in San Antonio. We also really enjoy traveling to any foreign destination that features clear water and white sand beaches. Playa Del Carmen and Key West are among our favorite destinations to travel to. We also enjoy traveling up to New England to spend time at our family's vacation house. It's in a small town in southeast Maine, and it's within walking distance of a beach. We also are known to eat a ton of lobster and ice cream while we are there. We have also been members of Riverbend Church for quite some time, and we consider it our second home. Kodikay and I volunteer our time in many ways to local organizations, and Kodikay is also extremely active at Oak Hill Elementary serving as the vice president of the P.T.A.